This post may contain affiliate links, and I may receive a small commission at no cost to you if you click through on a link and make a purchase. Please read my full disclosure here.
This post contains affiliate links and I will be compensated if you make a purchase after clicking on my links.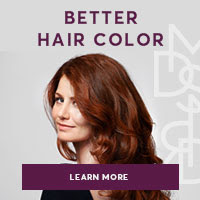 Welcome to a brand new year! Have a New Year's resolution to get strong, be healthy, and have gorgeous hair this year? Here are a few tips that will get you to your goal:
Stay Active
No one is saying you have to start living at the gym. Heck, you don't even need a gym membership! The key is to move as much as you can as often as possible. Go dancing. Take the stairs. Take your dogs for daily walks (ideally two times a day). Take a yoga class. Transition to a standing desk. Keep your muscles and joints moving and get your blood pumping. That will go a LONG way to getting and staying healthy, which will also show up in the quality of your hair.
Color with Healthier Hair Color
You knew this was one of the tips, right? There's nothing wrong with adding some oomph to your hair color. Just make sure to choose a product that will help your hair rather than harm it. Enter, Madison Reed home hair color. Madison Reed's hair color not only looks rich and vibrant, but also skips the harsh chemicals found in conventional dyes. This hair color formula is enhanced with a Triple Care Complex of keratin, argan oil, and ginseng root, which strengthens, repairs, and brings out your hair's natural shine.
Get your Gloss On
Color Reviving Gloss is a magical product that will give your hair color a boost, gently. Pros know that the secret is to alternate all-over permanent hair coloring with gloss to revive tone on lackluster locks (and using permanent color to touch up roots that have grown in). It's easier than you think, and it'll take your look to the next level.
Get your Zzzz's
From winter to summer, your one routine should be getting a good night's rest. Target eight hours of sleep per night — a little more or a little less is okay too as the perfect amount is different for each person.
What are some things you do to keep your hair healthy?
The following two tabs change content below.
Hi there! I'm Jennifer the founder/author behind the scenes. I'm a happily married work-at-home mom of three boys ages 7-10. I love helping moms and women like myself by providing helpful tips on parenting, raising boys, mommy resources, easy recipes and more. When I'm not busy with the family I am usually browsing the internet, watching Netflix or reading a good book. Thank you for stopping by and hope you enjoy your stay.